Attribution vs Gamification vs Commissions
The purpose of this article is to define 3 concepts that exist in the Popsell platform, which it is important to understand and differentiate.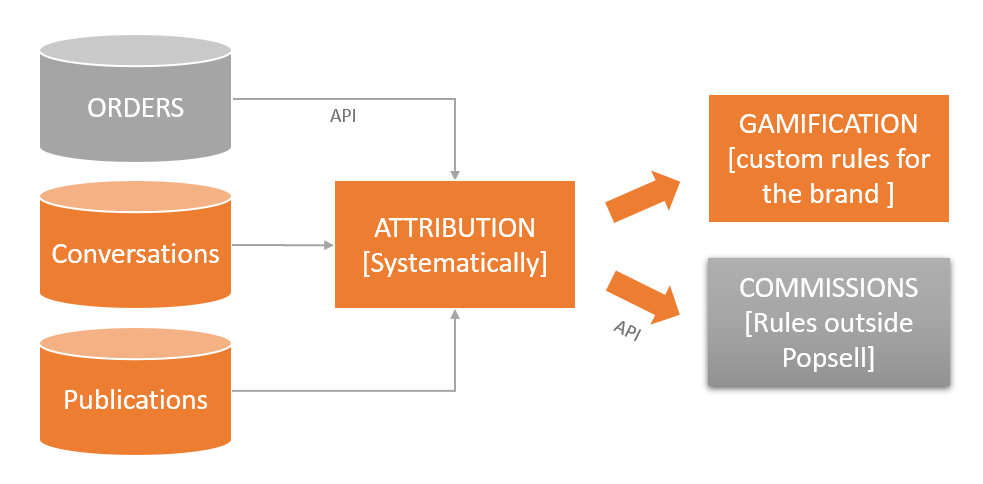 Attribution
This is the process by which a sale (online order or in-store purchase) is assigned to a member. The sale can be attributed as a result of sharing a publication (affiliation), and/or as a result of a conversation.
In all cases, the sale is systematically attributed according to the standard rules of Popsell, which are described in the following documents:
This attribution process is not customisable. The only exception is the attribution delay between the event and the date of the order:
15 days by default between the last conversation and the order,

30 days by default between the last click on a publication and the order.
Dashboards are based on attribution rules.
But you can always customise the filters to select the relevant data according to your needs. For example, you can filter data relating to users such as administrators or employees.
Gamification
The gamification engine can be fully customised through challenges to meet your expectations for rewarding members for their publications and conversations.
Challenges rules are set up on the Popsell Manager, and are based on a wide range of available parameters.
Members can be rewarded through a reward shop (gifts, vouchers) available on the Popsell App, and customisable on the Popsell Manager.
Commissions
Order attributions (affiliation and conversation) can be integrated from another platform used by the Brand (e.g. CRM platform).
Attributions can be queried through the Popsell API,

Attributions can be exported through a file stream (on request, please contact the Popsell account team).
It allows the brand to pay commissions through its usual process (payment of bonuses to employees through the payroll, integration into a direct sales force commissioning system, ...).
The commissioning rules are therefore not part of the Popsell platform. It is the system used by the brand that operates the attribution data.